What to choose Digital Printing v/s Offset Printing?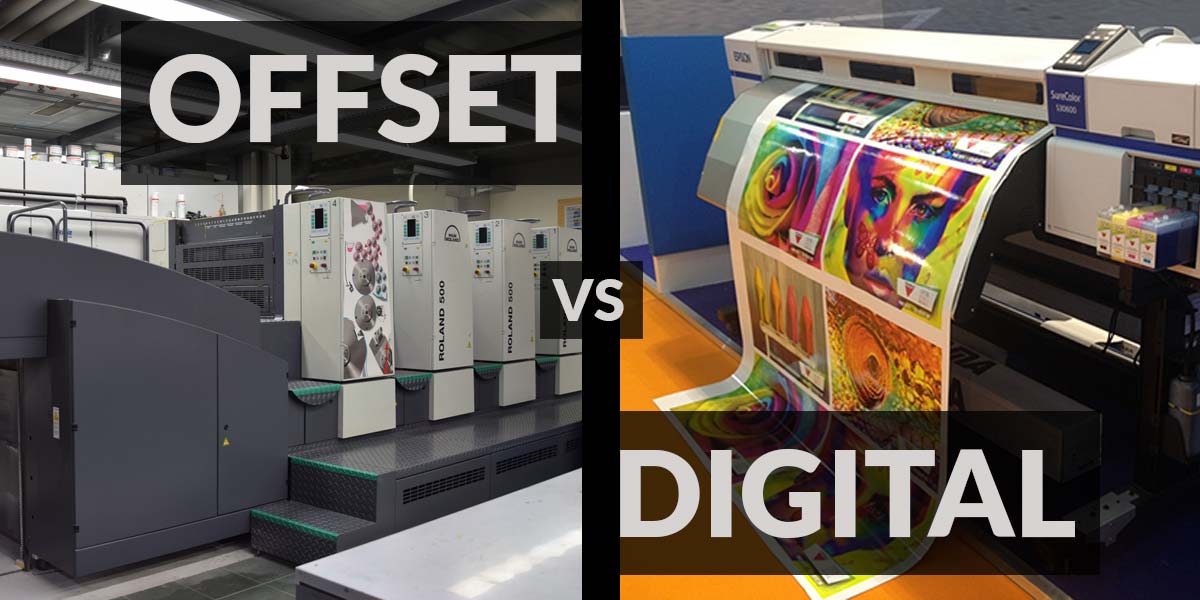 If you have brochure designing services in India for business cards, posters, brochures, you already know that you need to come up with a good design, copy, color scheme, and layout. Even after you have checked all the designs, it is very important to make one very important decision-the decision to choose between digital and offset printing.
This article covers the differences between the two printing techniques. We will list the main elements behind them, the pros and cons, and how to choose between these two.
Offset printing: The Conventional Method
Offset printing, also known as lithography, is the most common type of printing for high-volume commercial work. The working of offset printing is complex. The design is burned onto the metal plates for each color.
The design is moved from the plates onto rubber rolls. Various colors of ink are spread onto the rubber. The paper is then run between them. The colors are rolled on the paper to get the final image.
Benefits of the offset printing
Offset printing offers superior image quality. The printing image is quite reliable and superior. It provides clean, distinct type images without any lines, spots, or streaks.

There is also a better quality of color fidelity, which is dependent on the accuracy of the colors and their balance in the design. Since offset printing combines various colors for each job, they usually get the colors spot-on.

The brochure designing services in Noida ensure that it works well on almost any kind of material.

It is, in fact, worth the money. For large volume jobs, you will get a better ROI. It may cost you a lot before you start investing it, but once you have invested in it, you will actually spend less on big offset jobs than a digital print.
The Challenges of offset printing
You have to incur high costs in low-volume jobs.

There is a longer timetable for plates

You may have to start again if there's a mistake in the plates.

Digital printing: The changing time's

When digital printing came into the scene, there was already a lot of work being done by offset printing. This new technique entirely skips the plates, proof and rubbed bed. In the process, the ink is directly applied to the printing surface.
The benefits of digital printing
A faster turnaround time for printing

Since each print is identical, there is a lesser risk of odd variations caused by imbalances in water and ink.

It is cheaper for low-volume jobs.

The brochure designing services in Delhi can even print out two sets of batches. For instance, if you were throwing an event, you can actually change the dates and locations for one part of the batch can create two different sets.
The Challenges of digital printing
There are fewer options in materials where you can print on.

There is less possible color fidelity since digital jobs require standard inks that cannot exactly match the colors.

There is a higher cost for large volume work.
How to Choose Between Digital Vs. Offset Printing
If you are thinking about what printing services to choose, then we are giving some facts to consider
Depends on the Volume of the Project
If your project is big enough, and by that, we mean more than 500 pieces. Then offset printing can give you the advantage. The project should be big enough to cover the front-end costs. You will get a great looking that is going to cost you less.
Time is a constraint
You can go with Digital printing on this one. The brochure designing services in Bangalore can print at lightning speed. Offset printing can be relied on at the last minute.
Depends on Material
If you are trying to print on some unique business cards made up of metal or plastic, then offset printing is the right choice. Though digital printing has become advanced, but offset printing still offers greater flexibility.
Your Color Choice
Is this a white or black printing job? Do you need color for printing? The brochure designing services in Noida offer digital printing and offset printing for any type of color. Though, if you want varied colors, then opt for digital printing, whereas two types of colors can be done by offset printing.
Your Unique Work
It all depends on how unique you are getting? There is no doubt that digital printing is the easiest and cheapest to personalize your projects.
Depending on your personal choice, you can select either of the ones. Both present some major advantages and fewer drawbacks. The difference between the two allows you to make some smart decisions when you are deciding on which method to choose. Work with a brochure designing service in Delhi that can give you an added insight. So, if you are unsure about which to go for, don't hesitate to ask for help.